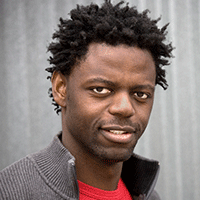 TMS Ruge is the cofounder at Hive Colab, Uganda's first technology incubator and co-working space in Kampala, Uganda.
He started UMPG, ltd., an agricultural value-added exporter in my hometown of Masindi, Uganda. Why? Because Africa's agricultural sector, shouldn't stop at raw materials export. Value-added exports ensure that farmers are paid better and promotes job creation.
In 2010, he launched Villages in Action, the first social media powered, live-streamed conference from a village to mark the 10th anniversary of the Millennium Development Goals.
In 2011, he was awarded the White House Champion of Change award (very proud of this one!) for the work that he continues to do to bring change to his East African community.
As a technology enthusiast, he writes and speaks extensively about Africa's current renaissance driven by technology, youth and the Diaspora. He is a frequent contributor to several online publications including CNN, Globe and Mail, Wall Street Journal, The Guardian and is also the host of the Digital Continent Podcast on iTunes.
He was born in Masindi, Uganda and grew up in Uganda, Kenya and the United States.
You can follow him on Twitter: @tmsruge