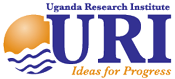 In order to create a sound public policy process for both decision makers and the public in Uganda, we propose to create a think tank called the Uganda Research Institute (URI). The proposed URI to be based in the United States with functioning branches in Uganda will help enrich the policy dialogue between policy makers and the public through publications, press releases, and panel discussions on television and radio. In addition to widely disseminating best ideas of Ugandans at home and in the diaspora about Uganda's path to sustainable development, the URI will seek to develop practical policy alternatives.
Mission & Vision:
The mission of the Uganda Research Institute is to provide sound policy-oriented research that informs and guides policy makers and the public about Uganda's current development challenges. The vision of the URI is to become a premier institution that analyzes and synthesizes public policy research for use by policy makers and to inform the general public. We strongly believe that such evidence- based information would help educate the public so they can advocate for better services and demand transparency in the delivery of services and implementation of development projects throughout the country To achieve its mission and vision, the URI will undertake the following objectives:
Identify and analyze existing policy-oriented research on Uganda's development and governance challenges and make it accessible to policy makers and the public through publications, press releases, and panel discussions on television and radio.
Draw public and media attention to development and governance policies that work or alternative ones with the potential to work. Also, seek to discourage current policies that do not work or are too costly to implement.
Stimulate dialogue between Ugandans abroad and those at home including policy makers on current domestic issues. In this way, the URI would serve as a vehicle for outside input and a constructive critique of government policy for better policies and improved livelihoods of all Ugandans.
Serve as an independent and credible voice that provides objective, high-quality research that both informs and influences decisions on domestic issues of national importance.
Work in partnership with policy-oriented research institutions and policy advocacy groups and nongovernmental organizations (NGOs) in Uganda in search of workable solutions to the country's development and governance challenges.