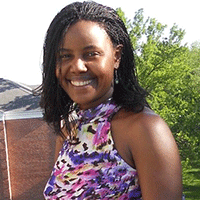 Dr. Veronica Wabukawo Keigwin is employed in the financial industry as a Credit Risk & Policy Manager for an international bank in Chicago IL USA. A doctor of philosophy with a Ph.D. in Applied Economics from Clemson University, SC, USA obtained in 2006.
A business entrepreneur, founder and CEO of Sisters Bridal Shop in Uganda, a company that is working with prominent designers in the bridal industry from the United States to bring the latest styles in the world to brides and grooms in Uganda and help make their dreams come true! Co-founder of BraWorld, the first exclusive lingerie company in Uganda providing UK and US underwear products for all diverse ladies in Uganda.
Dr. Veronica has a great passion for sports and was a national athlete for Uganda on the Track and Field team between 1998 and 2004 specializing in the sprints 100M, 200M, 4X100 and 4X400 relays. Amongst other competitions, Dr. Veronica Wabukawo was captain for the Uganda team at the Common Wealth Games in Kuala Lumpur in 1998.
As an economist, she loves working with numbers and economic statistical analyses, with strong proficiency in economic policy impact assessment, time series analysis, predictive modeling, and optimization modelling for efficient resource allocation among others.
Dr Veronica Wabukawo relocated from Uganda to the US in 2002, after complete a bachelor's degree in Agricultural Economics and Master's degree in Agribusiness Management from Makerere University in Uganda.